Why use Parmonic to repurpose your recordings?
Automation
Automates what took days & multiple tools.
Finds and edits key moments.
Generates transcripts and captions.
Creates campaign-ready assets in different formats out of the box.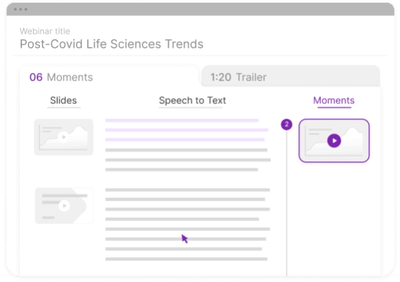 Empowerment
Self service. Full control.
Makes munchable video creation easier than creating a PPT slide.
You are the boss & can tweak the outputs without video editing.
No more long wait times. No more tiring back & forth.
Increase ROI
Get 7x more value from your recordings at a fraction of the cost of alternatives.
Your recordings are valuable & expensive. Expand their life.
Give buyers something they can consume in the little time they have.
Radically increase buyer interest signals for pipeline impact. Speed
Launch in minutes, not months.
Simple, browser-based tool.
Onboarding takes 30 mins.
Outputs work out of the box - no technical integration needed.