Parmonic launches new integration with HubSpot
Kait Scott
|
August 31, 2022
|
Company Updates
Looking to superpower your marketing strategy with video content? Parmonic's integration with marketing automation leader HubSpot gives marketers more ways to leverage video to make meaningful connections and analyze campaigns.
Parmonic customers have always had a hassle-free way to embed short videos on HubSpot blog posts and landing pages, but our new listed integration gives revenue teams unprecedented individual insights into video engagement. By seeing a person's interactions with your marketing videos right on their contact record, you can automate follow-up actions and start better conversations about the specific solutions your buyer is researching.
‍The integration is available now from the HubSpot app marketplace and is available to all Parmonic customers who purchase the automation add-on.
What can I do with Parmonic's integration with HubSpot?
See video engagement on contact records for personalized view information
Segment and score leads with video engagement metrics
Automate follow-up with relevant content
Create better experiences on your HubSpot blog, landing, and website pages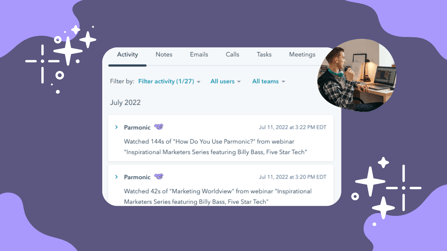 ‍
How does the Parmonic integration with HubSpot work?
Parmonic's video embed code does more than create beautiful visual experiences on website pages and blog posts.
When a visitor lands on a page with the HubSpot analytics and Parmonic video embed codes installed, the two scripts work together to identify the visitor. Then, Parmonic automatically sends the visitor's engagement with any video content to the visitor's record in HubSpot.
If the visitor can be found as a contact in the HubSpot CRM, users will be able to see the video analytics on the contact's activity timeline and on contact properties. HubSpot Marketing Hub Enterprise and Sales Hub Enterprise customers will also see a custom object for Parmonic in their HubSpot account, which stores metadata for each individual webinar.
With this information in HubSpot, marketing teams can automate sending nurturing emails with related resources or alert account executives about what their prospect's activity. Video signals can be used to score and route leads based on their intent, and reporting can be done holistically with the rest of your marketing activities in a multi-touch campaign.
How do I install the Parmonic integration with HubSpot?
Contact your Customer Happiness Specialist by clicking the chat button inside your Parmonic dashboard to schedule a setup call today! Not a Parmonic customer yet? Book a personalized demo to see how you can make marketing magic.
‍